The National Speleological Society is pleased to present video presentations featuring pioneering cave explorers, karst scientists, and other long-time NSS members. These talks are designed to give young and old cavers alike the opportunity to learn from some of the true superstars in our Society. This program is the brainchild of AVP Geary Schindel and Dave Hughes; the videos are produced by Dave Socky and Alex Sproul. Recommendations for future speakers are encouraged.


2023 CONVENTION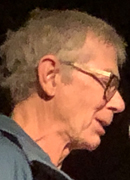 DAVE BUNNELL
NSS 14760/RL/FE/OS

Dave got his start caving as an undergrad at the Univ. of Delaware, where the outing club offered trips to PA caves. Soon he was going to WV, got into vertical caving, and visited both Hellhole and School-house. He attended UVA in Charlottesville, getting his PhD in psychophysiology. There he met Ron Simmons and caved a lot WV, especially in the Friars Hole System.
At the 1978 Texas convention, he met Carol Vesely, with whom he made the first of many trips to Mexico, to Sotano de las Golondrinas, and had his first photos published in a book by Michel Siffre. In 1980, he began a postdoc at UC Santa Barbara and began more international caving trips. He and Carol were on an expedition to Papual New Guinea, and he did a number of underground camp in Sistema Purifica-cion. In 1986 he joined an expedition to the Chiquibul Cave system in Belize, all the while amassing a large portfolio of photographs.
Carol and Dave initiated the California Sea Cave Survey, making dozens of trips to the Channel Islands, and in 1988 published his first book, Sea Caves of Santa Cruz Island.
His second great project was Lechuguilla. He attended an early expedition in 1986, followed by over a dozen weeklong expeditions, including some great discoveries and the first cave dives.
In 1991, Dave attended a vulcanospeleology conference in Hawai'i and discovered a few caves. This was the first of many trips there, working on caves on Mauna Loa and Kona with Doug Medville, Bob Richards and others. In 1996-96, he joined expeditions to Gunung Buda in Borneo, and got his first taste of book publishing with digital photo preparation.
IN 1995, with his companion Djuna, they produced the first Virtual Cave website, a guide to cave formations. It has been updated and expanded in the years since into a world-renowned resource for understanding the many forms of cave depositions. It presently has a new home on the NSS website.
In 1996, Dave was offered editorship of the NSS News, and brought new stability to that publication, along with increasing color, a revised format, and timely publication. He managed the News for 26 years before retiring at the end of 2022. Along with his cave photography, it opened many doors for cave visits around the world.
In 1998, Dave met his future wife Elizabeth and moved to Angels Camp, in California's Mother Lode cave country. Since then, Dave has continued to cave all around the world, notably in Asia, Europe, Mexico, and Central America. Download a copy (56:56, 1.83 GB)


---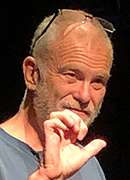 GEORGE DASHER
NSS 16643RL/FE/AL/OS

George Dasher is a force to be reckoned with in the Virginia Region and across the NSS. He grew up a cattle farm that was swallowed by Columbia, Maryland, and in college, he majored in geology and minored in biology. After college, George was interested in caving so in 1975, and he contacted the Baltimore Grotto.  Bob Gulden answered his letters and invited George on a caving trip to Greenbrier County, West Virginia, where they visited Organ Cave. George later became involved with the Organ Cave Project, which was the survey of what was then the longest cave in West Virginia. George liked surveying, processing the data, and drawing the working maps, as well as the long trips underground and always exploring something new, and he worked with the project until it terminated in the early 1980s. He also, during that time, joined the Greenbrier Grotto and began surveying several other nearby caves, such Foxhole, Cricket, Patton, and Laurel Creek Caves.

Professionally, he has worked as a draftsman, an electric logger, and as an oil-and- gas geologist, a paramedic, and most recently with the West Virginia Department of Environmental Protection. But his caving career has centered on cartography, from exploration to processing the data, to drawing working maps. He wrote the book on cave mapping; he is the author of On Station, the NSS' foundational book on cave survey. In fact, George has become a prolific author. As a member and now executive director of the West Virginia Speleological Survey, he has been editor, author, or contributor for 14 WVASS bulletins, a monograph, and a geology field trip guide. He has also been editor of Greenbrier Grotto's The Carabiner Wrap Up, and continues to edit The West Virginia Caver, now in its 41st year. In addition, George has authored ten sci-fi and fantasy books.
George Dasher is a Life Member and Fellow of the NSS, and has been a recipient of the Arts and Letters award and the William J. Stephenson Award for Outstanding Service. He is now retired and resides in Elkview, West Virginia. Download a copy (57:46, 863 MB)


---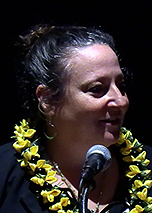 ANNETTE ENGEL
NSS 31319RL/FE/JM/SC
Annette's scientific career has been guided by seren-dipity. At 12 years old, away at summer camp at Carter Caves State Resort Park in KY, she was captivated by biology professor Dr. Horton Hobbs III of Wit-tenberg University, and knew she wanted to be a biology professor. As an undergrad, she roamed the eastern US with Dr. Hobbs, researching cave critters; Pseudo scorpions were her favorite. But she realized she wouldn't be happy in a single discipline, and embraced becoming an interdisciplinary scientist.
In 1994 she met Serban Sarbu, who was working on the study of chemosynthetic microorganisms in Movile Cave, Romania. She joined him there and at the Univ. of Cincinnati to pursue an MS in the Dept. of Geology. Then serendipity struck again when she learned of a NASA report about squiggles in a Martian meteorite being bacteria. Annette quickly decided that geomicrobiology was "her field." During her research in Movile Cave, she realized how little research was being done on sulfuric acid speleogenesis, and decided to pursue a second MS in biology.
In 1999, Annette decided to focus her doctorate work on Lower Kane Cave at The Univ. of Texas at Austin, and went on to make discoveries that would attract the attention of book authors and TV networks. Then followed becoming a professor of geomicrobiology at Louisiana State Univ., and as a geochemistry professor at the Univ. of TN Knoxville. Annette took advantage of serendipitous opportunities to lead scientific expeditions around the world as well as to diversify her research portfolio into new directions.
Annette joined biospeleology teams to discover new cave life in eastern TN and uncover ecosystem processes in Hawaiian lava tubes. She and her collaborators have published their findings as dozens of scientific papers and in books, including Microbial Life of Cave Systems. Moreover, she has been honored by the NSS, the UIS, the Explorers Club, the Karst Waters Institute, the AAAS, and other organizations.
Along the way, Annette has been a long-serving volunteer for, and leader within, caving grottos and non-profit organizations like the Karst Waters Institute, the Cave Conservancy of the Virginias, and the Cave Conservancy of Hawaiʻi. She is currently coordinating the Cave Conservancy Foundation's Graduate Fellowship in Karst Studies program. Download a copy (56:56, 1.83 GB)
---
The National Speleological Society
6001 Pulaski Pike
Huntsville, AL 35810-1122 USA
(256) 852-1300
nss@caves.org
Contact NSS IT/Web Support
Proud sponsors of caves.org


Visit our social media sites, too!

©Copyright National Speleological Society, 1995 - 2023.
NSS & the logo are ®registered trademarks.