2019 CONVENTION, COOKEVILLE, TENNESSEE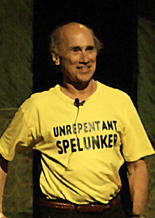 RICHARD FINCH
(NSS 5560) (RL)

Ric Finch grew up in Georgetown, Texas, and spent a meaningful part of his youth crawling around in a few caves of central Texas. As part of his adventures, Ric mined and sold bat guano to various neighbors for use as fertilizer—essentially Finch's version of a kid's lemonade stand!

Later, at the University of Texas in Austin, Ric worked on a Ph.D. under Bill Muehlberger. And, as one of Muehlberger's graduate students, Ric was sent to do fieldwork in faraway Honduras.

After graduation, Ric returned to the cave-rich areas of Central America. There, Ric and his teammates explored and surveyed a number of challenging caves, including Cueva La Buena Fé, Cueva Guatemalía, Cueva Masical, and Cueva Siete Quebradas. Finch led the first expedition by cavers into the remote Montañas de Colón karst, and participated in a second expedition there led by Pete Shifflett. In addition, Ric was part of the final Subterraneo del Río Atima expedition led by Steve Knutson. Download a copy (53:42, 420 MB)


---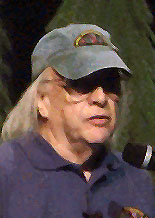 DON PAQUETTE
(NSS 8545) (RL-CM-FE)

Don Paquette and his family moved to Bloomington, Indiana, when Don was just 13 years of age. Before long, Paquette was one of the cavers regularly spending weekends at Dick Blenz's Speleo Barn—and exploring the many caves of Garrison Chapel Valley. Indeed, to this very day, Don has fond memories of early visits to Buckner Cave, Gory Hole, Shaft Cave, Sullivan Cave, and Wayne Cave.
One of Paquette's major interests in the sport involves cave rescue. Don was the very first NCRC coordinator for the Central Region. Since that time, Don has taught cave rescue and vertical caving skills all around the United States, and in Belize, Hungary, and Puerto Rico. In recognition of his efforts, the NSS Cave Rescue community awarded Don Paquette the 2018 Steve Hudson Award. Download a copy (56:46, 613 MB)


---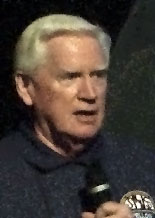 ED YARBROUGH
(NSS 5322) (CL-FE)

From the time that he was a teenager in the 1950s, Ed Yarbrough has been fascinated with caves and, especially, with vertical caves. One important milestone along the way was Surprise Pit. Originally discovered and descended in 1961, Surprise Pit in Alabama's Fern Cave contained the longest freefall drop known in any American cave. And Ed Yarbrough really wanted to see and experience the deepest pit in America. So, in what was an essentially solo effort, Ed Yarbrough located the original rig point, schlepped his gear out along the narrow ledge, tied off his long rope, and did the sixth-ever rappel and prusik of Surprise Pit. It was a remarkable and courageous achievement. At the time, Ed Yarbrough was a mere 19 years of age. Download a copy (1:01:45, 454 MB)


---
2018 CONVENTION, HELENA, MONTANA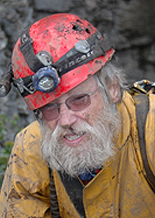 MIKE McEACHERN

Mike McEachern happened upon Bill Halliday's book entitled Adventure is Underground and, in due course, was invited on a grotto trip with Ray Beach and Dave McClurg. He transferred his college major from electronics to anthropology and, ultimately, did a master's thesis on the mortuary caves of the Mother Lode region.
Offered a research assistant position in archae- ology at the University of Alberta in Edmonton, McEachern moved to Canada to search for signs of early man in the caves of the Canadian Rockies. Mike was conducting excavations in the Crowsnest Pass region during the same time that Derek Ford and his colleagues were searching for caves in that area. As a result, Mike ended up on the first trip to the Andy Good Plateau, when both Yorkshire Pot and Mendips Cave were discovered.
Leaving Canada and moving back to California, McEachern planned a short reconnaissance trip into the Bob Marshall Wilderness, where a small cave had been found the previous summer. This trip resulted in the discovery of the Silvertip System. Mike was heavily involved with the initial work at Silvertip, including the recruitment of other strong cavers to assist with the project. Along the way, McEachern discovered the entrance to Getout Cave on this mountain. Getout was soon connected into the main complex, resulting in a cave that was over 1,000 feet deep.
One of Mike's major interests in the sport involves cave photography and, in particular, stereo cave photography. Beginning with a basic Stereo Realist camera, Mike expanded to the ownership of about a dozen stereo cameras. One of his stereo photography projects involved providing the imagery populating the three-reel View-Master set that features the justly famous Caverns of Sonora. Download a copy (53:06, 585 MB)


---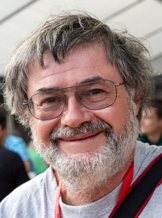 CHRIS HOWES

Chris Howes' first cave exploring trip was in 1968. Afterward, his dad—believing that caves were dangerous—emphasized to Chris that he was not to venture underground—not no how; not no way. That was all that it took, and Chris Howes was off on a lifetime of caving.
An avid above-ground photographer, it seemed perfectly natural for Chris to extend his photographic endeavors to the realm of the underworld. At first the results were sophomoric, but they soon evolved into something exceptional. To capture the desired images, Chris (and his photo assistants) hauled gear through grim conditions, backbreaking passages, up and down drops, and across all manner of obstacles and wonders. Each trip helped to refine his skill set and perfect the methods for which he became famous. Encouraged by friends, Howes penned a manuscript detailing the techniques that he had learned, developed, and employed. The resulting Cave Photography: A Practical Guide appeared in 1987.
Also fascinated by the historical aspects of underground photography, Chris Howes carefully researched the entirety of that niche, collected certain of the associated artifacts, assembled many rare images, and wrote up the results in his own inimitable way. For cavers fascinated by a journey along the bumpy road from magnesium flares and flash powder to modern electronic strobes there is no better book than Howes' To Photograph Darkness: The History of Underground and Flash Photography. Then, in 1997, Chris updated and consolidated some aspects of his previous work with the publication of Images Below: A Manual of Underground and Flash Photography. Download a copy (1:06:18, 504 MB)


---
The National Speleological Society
6001 Pulaski Pike
Huntsville, AL 35810-1122 USA
(256) 852-1300
nss@caves.org
Contact NSS IT/Web Support
Proud sponsors of caves.org


Visit our social media sites, too!

©Copyright National Speleological Society, 1995 - 2023.
NSS & the logo are ®registered trademarks.