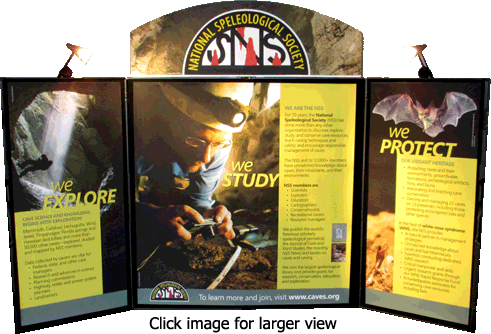 Help Promote the NSS!
The NSS has this table top display available for short-term use by NSS members. The NSS will ship the unit to core elements of NSS, Inc. at no cost; IOs and members are responsible for shipping at their own expense and for the timely return of the display.
The unit is free-standing and includes the two clip-on spotlights.
Included are two Panel 4 "We Protect" options; one is specific to
WNS and the other is more general.
The cost of shipping both directions is the responsibility of the NSS IO or member borrowing the display, who are also responsible for any damage to the posters or display unit. For information, contact wnsliaison@caves.org.

Dimensions:
Set up: 48" wide x 24" tall, plus 7.5" header. Only 4" deep.
Shipping Case: 24.5" long x 13" tall x 4" deep
Shipping/Dimensional Weight: 14 lbs.
Print your own posters!
You're invited to download the panels to print locally in a size and on a medium that works best for your purpose. The center panel is actually two pieces, but a single 4-panel image is also provided. The right panel includes two versions; Panel 4A is for general NSS use; Panel 4B is modified slightly to include a WNS message in the lower half. The pdf files are very large (30-40 MB) for printing purposes.