Boy Scouts of America and Caving
Before you start planning your Scout's caving trip, review this short presentation: National BSA Youth Caving Presentation
It is the responsibility of each BSA leader to know and abide by all BSA guidelines. Many BSA leaders mistakenly think that these guidelines are not the same as regulations and requirements. These guidelines are requirements. ALL BSA guidelines MUST be followed for each activity. No Council, Troop, Unit, or individual may weaken the guidelines/requirements as set by the National BSA organization. Contact your Council for any additional requirements or assistance.
The Guide to Safe Scouting section on caving can be found here..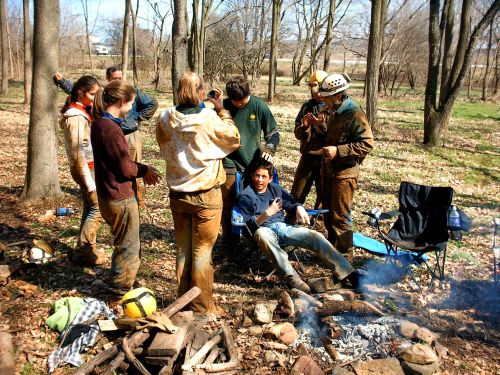 All other regulations and requirements in the Guide to Safe Scouitng must be followed as well.
Requirements for vertical work and use of climbing aids (cable ladders, handlines, belays, etc.) are listed on the same page under the heading "Climbing or Rappelling." Entering abandoned mines is an unauthorized activity, as may be viewed under "Unauthorized and Restricted Activities."
BSA requirements concerning cave conservation and landowner relations are found in the brochure Caving: A Policy Statement and Guidelines on Caving Prepared by the Youth Groups Liaison Committee of the National Speleological Society and the Boy Scouts of America. However, this brochure does not include the basic BSA safety requirements that must be followed for every BSA activity.
There are two good articles in Scouting Magazine on caving with Scouts. The first was in the March – April 2007 issue and was called, "Wild Caving Weekend" written by Cindy Ross and photographed by Walter P. Calahan. http://www.scoutingmagazine.org/issues/0703/a-wild.html#sbarb The second is from the October 2008 issue and called "A Magical World" by Michael Rutland and photographed by Vince Heptig. http://www.scoutingmagazine.org/issues/0810/a-unlocking.html
There is also an article in the September 2006 issue of Boy's Life called, "Into the Darkness" by Aaron Derr. http://boyslife.org/outdoors/outdoorarticles/475/into-the-darkness/ There is also another related article in the July 2005 issue of Boys Life called, "Headlamp and Flashlight buying guide" by Mark Anders. http://boyslife.org/outdoors/guygear/4078/headlamp-and-flashlight-buying-guide/
There is an online article on the US Scouting Service Project called, "Caves and Scouts … or … Caving and Scouting" written by Scoutmaster and caver Tray Murphy. http://www.macscouter.com/usscouts/safety/caves.asp
Venturing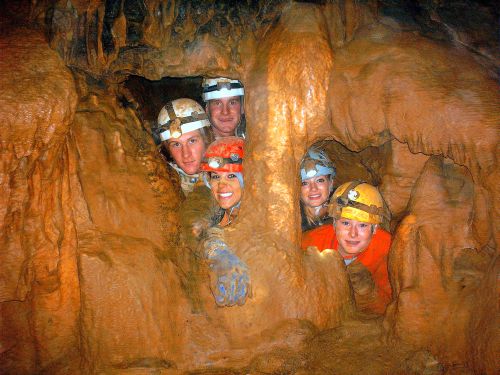 The Cave Exploring Elective is just one for the Venturing Ranger Award. As all the other Electives a Venturer learns, does, and teaches skills and information. The requirements for the Cave Exploring Elective can be found at the US Scouting Service Project http://www.usscouts.org/advance/venturing/Electives/Caves.asp .
The first requirement listed 1a. "Write the National Speleological Society (NSS) to request information about caving and information about caves and cavers near you" can easily be done by emailing the Regional Coordinator for your Region or State or myself (nssyouth@caves.org).
Most of the other requirements can be done by planning and executing a caving activity for their Crew. This is something I'd like to encourage Venturers to try.
If you have any questions on the Caving Elective, please feel free to send an email and I'll do the best I can to answer your question.
The NSS does not intend this information to be an endorsement of safety or quality of the programs listed. This information is meant to be used only as a guide and resource to program availability. The safety or program quality is to be assessed by the youth group leader.